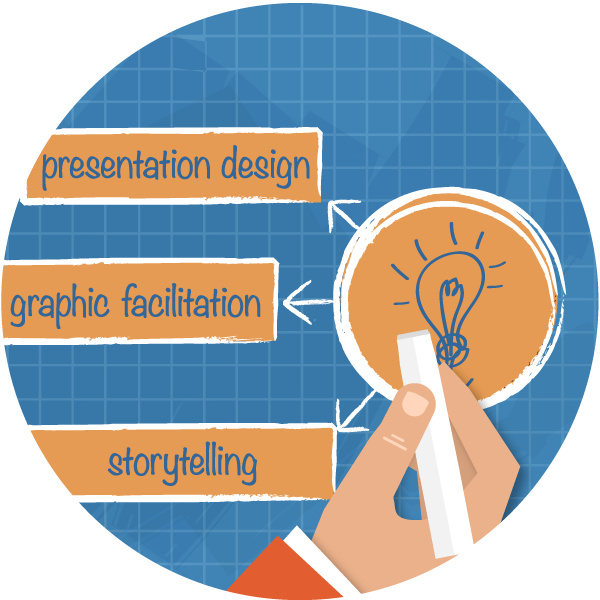 Welcome to this epic three-part series on visual design and storytelling. It's fresh, fun, and highly relevant to business architect practitioners and organizational decision makers.
The first installment in the series explores presentation design first-hand with Chicago-based designer, James Jones. He is not only a highly respected, experienced designer but a professional who spent has spent years of his career supporting a large business architecture team. James describes what presentation design is, why it is so vital for the success of business architecture practices, and how we, as practitioners, can develop an eye and skill for conveying important ideas through presentation.
---
In the second installment, we examine how business architects can leverage two highly engaging, visual techniques – graphic recording and graphic facilitation – to increase our collective understanding. We call upon two talented professionals: Sarah Greer, graphic recorder extraordinaire and industrial engineer and business architect, Michael Pemberton. Both guest stars reveal how can business architecture teams use the techniques of graphic recording and graphic facilitation to envision the tease apart complexity and provide a shared vision of the future.
---
In our final installment in this StraightTalk series, we explore the power of storytelling and its unique ability to convey complex ideas, influence decision makers, and inspire decisive action. Award-winning television producer and documentary director, Tamara Park, leads us on a journey through the art of storytelling, and how story is an indispensable tool for business architects.
This StraightTalk post has a bonus feature: an animated video created by another master storyteller and former StraightTalk guest star, Dr. Raj Ramesh, on how business architects can master the art of storytelling and explaining complex business topics.